The ultra-compact, cost-effective MicroNIR spectrometer measures wavelengths of 950 – 1650 or 1150 – 2150 nm, weighs less than 60 grams, and is USB powered or wireless. Offering the highest performance-to-price ratio in the industry, the ubiquitous MicroNIR integrates all components into a small unit suitable for convenient, portable use in the field as well as on-line or at-line process monitoring and control. The MicroNIR enables real-time, non-destructive evaluations anywhere.
MicroNIR for Raw Material Identification
Raw material identification or verification (of the packaging label) is a common quality-control practice. In the pharmaceutical industry, the increasing global footprint of the supply chain and public health concerns resulting from contaminated materials (or mislabeling) have driven many regulatory bodies to require inspection of every barrel in every shipment of materials used in the manufacture of pharmaceutical drugs. Handheld analytical instruments are becoming more common for rapid and non-destructive testing of incoming raw materials directly in warehouses, reducing the cost and time needed for taking samples to the laboratory and quarantining incoming shipments until lab testing is complete. Read the article ...
| | |
| --- | --- |
| | |
MicroNIR for Narcotics and Explosives Detection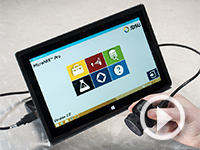 In collaboration with the National Forensic Science Technology Center (NFSTC) in Largo, Florida, a library of the top 25 narcotics materials has been built with the MicroNIR 1700 spectrometer. In addition, a small library of explosive precursors has been created.
This video provides a demonstration of how the MicroNIR spectrometer can successfully identify heroin, cocaine, and oxycodone rapidly, non-destructively, and in small quantities of less than 20 milligrams. Watch the video ...
Inventech Benelux BV is a well-known distributor company specializing in advanced process and laboratory equipment. They are now the authorized distributor for MicroNIR serving the Netherlands, Luxembourg, and Belgium. Inventech Benelux BV offers complete solutions, technical support, and after-sales support for all MicroNIR products.
Visit us at the following events:
IFPAC 2015 — booth #306, January 26 – 28, Arlington, VA USA

At IFPAC, we will show a preview of the MicroNIR PAT, a wireless MicroNIR suitable for on-line monitoring of pharmaceutical and chemical processes. Features of the MicroNIR PAT:



Versatile power and communication options

User-selectable WiFi, Bluetooth, or Ethernet
User-selectable battery or external power

On-board computer for data storage and forwarding
Integrated triggering mechanism for data acquisition
IP 65 housing, measuring 150 x 120 x 90 mm (6 x 4.7 x 3.5 in).
Weighs 1.4 kg (3 lb)
Includes model building and prediction software in addition to process-monitoring software



Pittcon 2015 — booth #3609, March 8 – 12, New Orleans, LA USA


Achema 2015, June 15 – 19, Frankfurt, Germany