Submitted by
ryan.grace
on February 1, 2023 - 10:41pm
Overview:
This How-To document covers how to remove the battery from the ONX CATV
Solution Steps:
Make sure that the unit does not have any cover case on Locate the 6 flat-head screws marked with the battery icon. Loosen each screw with a standard slotted screwdriver until you feel them disengage from the Mainframe portion of the unit. Note that these 6 screws are designed to remain captive with the Module. You will not be able to completely remove the screws out from the Module.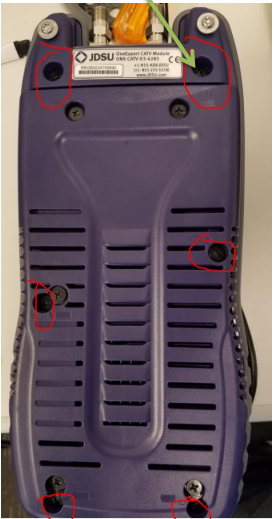 With the unit still sitting face-down, lift the Module up and away from the Mainframe as shown. Removing the Module will expose a backplane connector that extends from the Mainframe. There is risk of damaging this backplane connector if the unit is pulled apart without exercising the proper caution. If the Module begins to lift away but appears to be still connected by one or more screws, further loosen each screw again until the Module lifts cleanly away from the Mainframe. If the Module sticks to the Mainframe even though the screws are fully loosened, you may need to use a tool to help "release" the seal created by the water sealing features. Refer to the "Optional Step" section for this step.

Optional Step. Note it is critical that this step only be performed if needed and only where specifically instructed. There is risk of damaging the water seal of the unit if these instructions are not followed. Gently insert a screwdriver as shown and use it to very carefully pry the two halves of the unit apart. Only do this until the Module begins to release from the Mainframe. Once the Module begins to release, go back to Step 3 to fully remove the Module
Once the "module" has been removed, then remove the screw on top of the battery cover.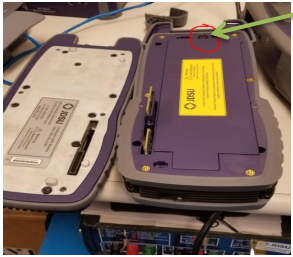 Once the battery cover has been removed, remove battery from unit.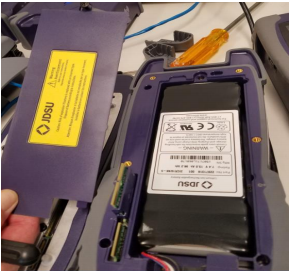 Alfredo Fierro EMEA TAC
Product Family: