Wednesday, October 26, 2016
New OTDR helps increase efficiency in CWDM network deployment and troubleshooting
October 24, 2016 — VIAVI today introduced the 4100-series CWDM OTDR for its T-BERD/MTS-2000, 4000, and 5800 platforms, making it the most compact and affordable solution on the market to turn up and certify CWDM networks.
Benefits:
Test new CWDM wavelength routes without disrupting traffic on active channels to pinpoint exact fault locations
Prove end-to-end continuity and continuous wave-source function (included standard at each CWDM wavelength)
Work with a comprehensive solution in qualification and troubleshooting for field technicians when combined with the VIAVI CWDM spectrum analyzer
Simple add-on to existing fiber test and Ethernet test tools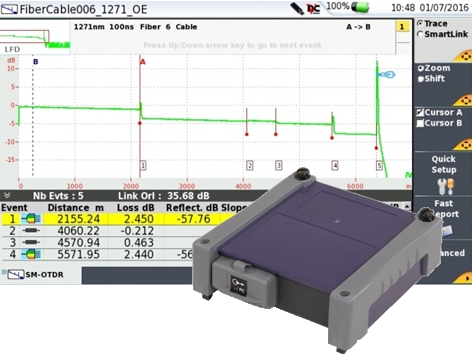 Use Case:
The 4100-series CWDM OTDR is designed for wireless operators deploying active C-RAN and DAS networks or business service providers requiring a combined fiber/Ethernet qualification solution for high quality networks. Combined with the VIAVI T-BERD®/MTS-5800, these new OTDR modules enable physical-layer fiber certification and troubleshooting along with CPRI, OBSAI and Ethernet service tests in a compact test platform. To ensure SLA compliance from day one, users will be able to validate all 18 CWDM wavelengths and prove Ethernet service from 10Mb/s to 100Gb/s.
VIAVI is the worldwide leader in OTDR manufacturing and has been awarded the coveted Frost & Sullivan Fiber Optics Test Equipment Market Leader Award for fiber-optic test equipment for four years in a row.
For more information on CWDM testing and troubleshooting, visit our website or contact your VIAVI representative.