NBN Unify
Field Technicians working on NBN UNIFY are required to be multi-skilled to work on Optical Fiber, Copper and HFC technologies within NBN's Network Infrastructure and End-Customer's Home & Business environments.
Contractor Essentials / TMG Test Equipment supplies quality VIAVI Solutions Test Equipment and Tools required to effectively find & fix faults within NBN's multi-technology network.
For Inquiries on NBN Unify Tools , contact our Australian Elite Partner
VIAVI OneExpert ONX-620 HFC Multifunction Tester
NBN Approved for use on NBN / Telstra's HFC network.
The ONX-620 is specific to the Australian market and is suitable for 'TAP down' on NBN's HFC network. Initially released without DOCSIS (and upstream readings) capability, the ONX-620 has now been approved for its full suite of functionality by NBN. With a simple user-friendly interface and pass/fail results, the ONX-620 makes testing fast and simple for NBN HFC Technicians of all levels of expertise.
Benefits
Simple – Every technician is an expert
Channel Plans built by the meter automatically
Expertise is built in - 'Session Expert' identifies issues & assists technicians to resolve them
Firmware & Software Updates via StrataSync (FREE VIAVI Cloud Service)
Fast - Testing and Troubleshooting faster than ever
Ingress and Downstream scan including MER/BER in 60sec
5x more Downstream coverage in half the time
Powerful & Future Proof - Get the most from your investment
Includes dual diplexer for 65 & 204MHz
DOCSIS 3.0, 32x8 DOCSIS, Wi-Fi, Ethernet 1Gbps capable
Modular & Upgrade-able, DOCSIS 3.1 via Software License when required...
---
VIAVI Next Generation ONX580 G.Fast Complete Copper Tester
All your xDSL and G.fast testing needs in a single package:
ADSL through VDSL2 with bonding and vectoring
V35b with bonding and vectoring
G.fast 106MHz and 212MHz
G.fast bonding
Modem chipset diversity
Amendment 3 interoperability. The Viavi G.fast 212 module is the industry's only offering with native support for the two most popular G.fast chipset vendors in a single test solution – Broadcom and Sckipio
The ONX-580 family modularity helps you keep pace with critical technology and network evolutions:
The ONX G.fast 212 module is latest in a long line of ONX G.fast and xDSL test modules
Lowers your total cost of ownership by adding new module(s) over time vs. buying multiple new test solutions
ONX Simplifies the Complex, providing:
Flexible OneCheck applications
Expert applications that interpret results and make recommendations
Much more…
---
VIAVI FBP-MTS-101 P5000i w/FiberCheckPro
The P5000i makes it fast and easy to certify that every connection in your network is clear and optimized. This intelligent microscope removes the guesswork from fiber inspection and provides reliable and objective PASS/FAIL analysis of the fibers that connect customers to your network and to the best user experience possible. The P5000i also enables PASS/FAIL analysis using many VIAVI test solutions that users already rely on for essential network testing.
Easily connect to a MTS 2000/4000/6000, HST-3000 or laptop/PC via USB without the need for any additional adapters.
Inspect and certify fiber end face quality at the push of a button, making your technicians instant fiber experts
Use an intelligent scope to certify fiber performance and deliver the results to an existing JDSU test platforms
Eliminate confusion with fast, easy, and objective testing
Help your technicians get it right the first time; drive best practices, improve quality of work, and optimize their workflow
Ensure lifetime connections and protect
---
VIAVI MTS-2000 v2 1310/1625nm Best Value NBN Configured OTDR Package
Best NBN ready OTDR for those on a budget.
Supplied with High Visibility Touch Screen MTS-2000v2 Mainframe, with 1310/1625nm 40dB/38dB dynamic range OTDR with SC/APC connector, Light Source and a Carry Case.
Built-in Wi-Fi now included!
This OTDR is perfect for Field Technicians working on the NBN LFN and DFN Network and the ability to test through three Splitters and Events with no problem.
Smart Access Anywhere Software is included with this OTDR package!
With this software upgrade, your OTDR can be accessed remotely by your Delivery Partner or TMG to check your OTDR set up results.
Config Files can be set so the unit can be set up with a press of a button saving time and possible errors.
This OTDR can be accessed remotely by your Delivery Partner or TMG to check your OTDR set up / results.
This unit can be software upgraded for an additional cost to include 1550nm wavelength.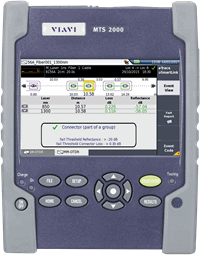 ---
VIAVI MTS-4000 (v2) Tri-band (1310/1550/1625nm) OTDR Best Value Package
The new VIAVI MTS-4000 v2 OTDR Package includes 1310nm, 1550nm and 1625nm wavelengths and is the PERFECT SOLUTION to test the NBN PON and Optical Telcommunication Networks at a COST-EFFECTIVE price.
With a large, high contrast colour glass touch screen operating this amazing MTS-4000 v2 OTDR super easy
Has a powerful feature set that will help the new technicians identify faults in the network with an increased level of confidence.
Built-in Wi-Fi and Blutooth is included!
TMG/Contractor Essentials has an exclusive Australian Industry price for this package
---